Claro Sauna
Claro Sauna     

*Before ordering please call for availability 
Sauna Features             

360 Video
Solid aspen corners and exterior trim Aspen interior wall panels and benches Stainless steel hinges and hardware throughout

LED lighting behind back support corners LED lighting beneath upper bench Multi-level seating for up to 6 people Curved interior benches Wrap-around upper bench support Indoor usage Includes deluxe bucket, ladle, and thermometer Made in Finland Comes with lifetime manufacturer warranty
Light is one of the key concepts in the Claro sauna. Light comes in through the glass front – and when needed, the corner lamps and a LED strip in the upper bench give their warm-toned support.

Item: spHARCLR6PA
Capacity: 6 Persons
Heater: Harvia 8kw Topclass heater
Electrical (heater): 220V, 40-Amp service; 8/2 hard-wire connect
Lighting: LED
Exterior Dimensions: 81"L x 81"W x 82"H
Interior Dimensions: 77"L x 77"W x 78"H
Lower Bench Dimensions: 51"L x 26"W
Upper Bench Dimensions: 77"L x 26"W
Upper Bench L Extension: 26"L x 26"W
Door Dimensions: 32"W x 70"H
Assembled Weight: 1600 lbs.
Shipping Weight: 1750 lbs.
Shipping Size: 96"L x 42"W x 45"H
Note: All dimensions are approximate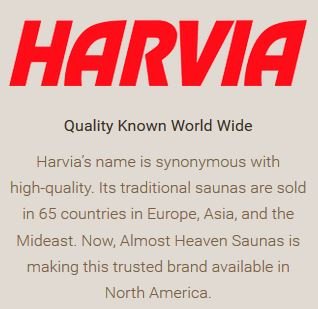 Harvia
 – Authentic Finnish Saunas
The Finnish company Harvia, founded in 1950, is a world leader in manufacturing authentic saunas and sauna heaters. Almost Heaven Saunas is proud to be partnering with this premier company to make Harvia's quality saunas available in North America.
Harvia is renowned for innovative sauna designs, high-quality materials, and excellent craftsmanship. Its traditional Finnish sauna designs have developed over the past 65 years to offer a wide variety of styles, materials, and sizes to suit modern lifestyles. And, because they are sold by Almost Heaven Saunas, Harvia saunas are backed by our lifetime room construction warranty.
Sauna customers can choose models with flexible designs to fit indoor or outdoor spaces, and with new decorative materials like glass, stone, metal, and even colored lights, in addition to the traditional sauna woods.
 Quality Craftsmanship
Harvia saunas are meticulously designed and crafted to last a lifetime. Recognized as the creator of the modern Finnish sauna, Harvia also has one of the longest tradition of sauna heater manufacture in Finland.
Harvia has saunas designed to suit every need and taste with customizable details. Harvia's sauna heater designs, both wood-burning and electric, have also advanced, keeping up with technological developments using proprietary designs.
Imagine a sauna with a beautiful stone wall, or with a colored light panel that can aid in relaxation, or with a glass wall that can share light and heat with an adjoining living area. Innovation, quality, authenticity–this is Harvia.