Filter Guide
PROLine
High Quality Filters Cartridges
Search Filters by Manufacturer Below
You can also search by filter part number

How To Measure A Filter Cartridge
1. Measure the outside diameter (O.D.) of the cartridge (A)
2. Measure the cartridge length. Excluding handles or other extensions (B)
3. Identify the type of end cap your filter cartridge has,
If the top and or bottom is "open"
measure the inside diameter (I.D.) of the top and or
bottom (C)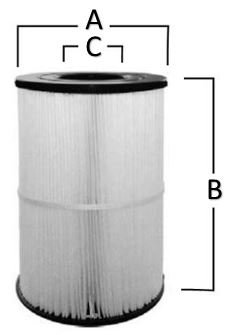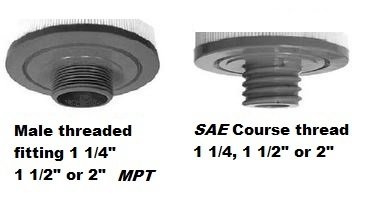 It is always a good idea to measure your existing filter to be
sure you get the correct replacement filter.
Filter Cartridge Measurements can vary slightly. Allow a tolerance of + or - 1/16in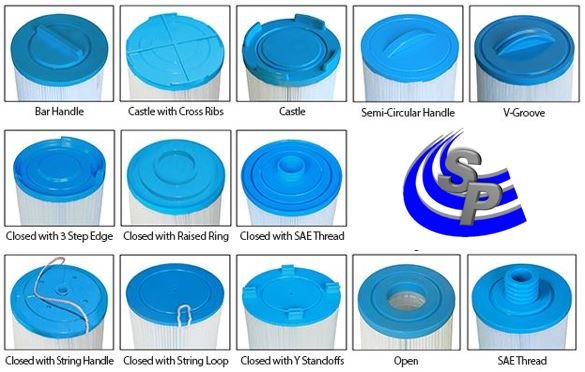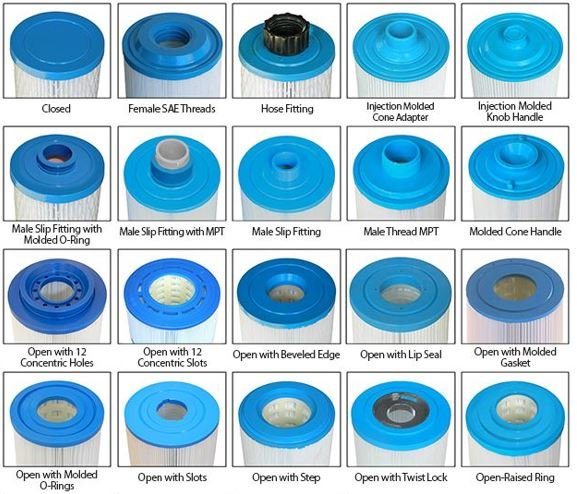 * Passion Spas Filter Cartridges
Find manufacturer, verify size and just "Click" on part number to find filter cartridge...
| | | | | | | |
| --- | --- | --- | --- | --- | --- | --- |
| Manufacturer | Diameter | Length | Top | Bottom | Sq. Ft. | Part # |
| Aber Hot Tubs | 4-15/16 | 9-1/4 | 2-1/8" Open | 2-1/8" Open | 35 | P-4335 |
| Aber Hot Tubs | 4-15/16 | 13-5/16 | 2-1/8" Open | 2-1/8" Open | 50 | P-4950 |
| Aber Hot Tubs | 6 | 8-1/4 | Semi-Circular Handle | 1-1/2" Male SAE Thread | 45 | P6CH-940 |
| Aber Hot Tubs | 6 | 9-1/8 | Semi-Circular Handle | 1-1/2" Male Pipe Thread | 47 | P6CH-47 |
| Accent Spas | 4-1/4 | 4 | 2-1/16" Open | 2-1/16" Open | 10 | P-4310 |
| Accent Spas | 4-15/16 | 13-5/16 | 2-1/8" Open | 2-1/8" Open | 25 | P-4326 |
| Accent Spas | 4-15/16 | 13-5/16 | 2-1/8" Open | 2-1/8" Open | 50 | P-4950 |
| Addison | 4-5/8 | 14-3/4 | Molded Cone Handle | 1-1/2" Male Pipe Thread | 50 | P4CH-50 |
| Advanced Spa | 4-5/8 | 9-3/4 | Molded Cone Handle | 1-1/2" Male Pipe Thread | 25 | P4CH-24 |
| Advanced Spa | 4-5/8 | 14-3/4 | Molded Cone Handle | 1-1/2" Male Pipe Thread | 50 | P4CH-50 |
| Advanced Spa | 5-3/16 | 11-7/8 | Closed w/String Handle | 1-15/16" Open | 22 | P-5621 |
| Advanced Spa | 6 | 9-1/8 | Semi-Circular Handle | 1-1/2" Male Pipe Thread | 47 | P6CH-47 |
| Advanced Spa | 6 | 14-3/4 | Semi-Circular Handle | 1-7/8" Open | 75 | P-6475 |
| Advantage Mfg | 4-15/16 | 11-7/8 | 2-1/8" Open | 2-1/8" Open | 32 | P-4332 |
| Advantage Mfg | 4-15/16 | 14-7/8 | 2-1/8" Open | 2-1/8" Open | 27.5 | P-4301 |
| Advantage Mfg | 4/15/16 | 14-7/8 | 2-1/8" Open | 2-1/8" Open | 50 | P-4305 |
| Aires Spas | 4-15/16 | 13-5/16 | 2-1/8" Open | 2-1/8" Open | 25 | P-4625 |
| Alcove | 4-5/8 | 8 | Molded Cone Handle | 1-1/2" Male Pipe Thread | 19 | P4CH-21 |
| American Classic | 4-5/8 | 14-3/4 | Molded Cone Handle | 1-1/2" Male Pipe Thread | 50 | P4CH-50 |
| American Products | 4-11/16 | 11-7/8 | 2-1/16" Open | 2-1/16" Open | 25 | P-4325 |
| American Products | 7 | 9-13/16 | 3" Open | 3" Open | 25 | P-7625 |
| American Products | 7 | 11-13/16 | 3" Open | 3" Open | 43.7 | P-7437 |
| American Products | 7 | 19-5/8 | 3" Open | 3" Open | 50 | P-7650 |
| American Products | 7 | 29-3/8 | 3" Open | 3" Open | 100 | P-7499 |
| American Products | 10-1/16 | 8-9/16 | 6" Open | 6" Open | 50 | P-9405 |
| Manufacturer | Diameter | Length | Top | Bottom | Sq. Ft. | Part # |
| American Products | 10-1/16 | 23-5/8 | 6" Open | 6" Open | 100 | P-9410 |
| American Spas | 4-15/16 | 13-5/16 | 2-1/8" Open | 2-1/8" Open | 50 | P-4950 |
| American Spas | 6 | 7 | Semi-Circular Handle | 1-1/2" Male Pipe Thread | 25 | P6CH-26 |
| American Spas | 6 | 8-1/4 | Semi-Circular Handle | 1-1/2" Male SAE Thread | 45 | P6CH-940 |
| Amish Country | 5-3/16 | 11-7/8 | 1-1/16" Open | 1-5/8" Open | 25 | P-5626 |
| Amish Country | 5-3/16 | 11-7/8 | Closed | 1-5/8" Open | 35 | P-5423 |
| Amish Country | 5-3/16 | 19-5/8 | 1-1/16" Open | 1-5/8" Open | 40 | P-5637 |
| Amish Country | 5-3/16 | 19-5/8 | Closed | 1-5/8" Open | 58 | P-5434 |
| Apollo Spas | 4-5/8 | 11-7/8 | 2-1/16" Open | 2-1/16" Open | 25 | P-4325 |
| Apollo Spas | 4-15/16 | 4-5/8 | 2-1/8" Open | 2-1/8" Open | 35 | P-4401 |
| Apollo Spas | 4-15/16 | 13-5/16 | 2-1/8" Open | 2-1/8" Open | 25 | P-4326 |
| Apollo Spas | 4-15/16 | 13-5/16 | 2-1/8" Open | 2-1/8" Open | 50 | P-4950 |
| Apollo Spas | 5-11/16 | 10-3/8 | Closed w/String Loop | 2-1/8" Open | 25 | P-5601 |
| Apollo Spas | 6 | 8-1/4 | Semi-Circular Handle | 1-1/2" Male SAE Thread | 45 | P6CH-940 |
| Aqua Leisure | 4-1/4 | 3-3/4 | 2-1/16" Open | 2-1/16" Open | 2.5 | P-4313 |
| Aqua Leisure | 6-5/8 | 14-7/8 | 2-1/8" Open | 2-1/8" Open | 50 | P-4405 |
| Aqua Mystic | 4-15/16 | 13-5/16 | 2-1/8" Open | 2-1/8" Open | 25 | P-4326 |
| Aqua Mystic | 4-15/16 | 13-5/16 | 2-1/8" Open | 2-1/8" Open | 50 | P-4950 |
| Aqua Spa | 4-5/8 | 9-3/4 | Molded Cone Handle | 1-7/8" Open w/Slots | 20 | P-4402 |
| Aqua Spa | 6 | 9-3/4 | Semi-Circular Handle | 1-7/8" Open w/Slots | 25 | P-6601 |
| Arizona Pacific | 4-15/16 | 4-5/8 | 2-1/8" Open | 2-1/8" Open | 35 | P-4401 |
| Arizona Pacific | 4-15/16 | 6-5/8 | 2-1/8" Open | 2-1/8" Open | 50 | P-4405 |
| Arizona Pacific | 4-15/16 | 13-5/16 | 2-1/8" Open | 2-1/8" Open | 50 | P-4950 |
| Arizona Pacific | 6 | 9-7/8 | Semi-Circular Handle | 1-1/2" Male Pipe Thread | 35 | P6CH-35 |
| Artesian Spas | 6 | 7-1/8 | Semi-Circular Handle | 1-1/2" Male Pipe Thread | 25 | P6CH-26 |
| Manufacturer | Diameter | Length | Top | Bottom | Sq. Ft. | Part # |
| Artesian Spas | 6 | 8 | Semi-Circular Handle | 2" Male Pipe Thread | 35 | P6CH-352 |
| Artesian Spas | 6-3/4 | 8 | Semi-Circular Handle | 2" Male Pipe Thread | 50 | P6CH-502 |
| Atera Spas | 4-5/8 | 8 | Molded Cone Handle | 1-1/2" Male Pipe Thread | 19 | P4CH-21 |
| Atera Spas | 6 | 8-1/4 | Semi-Circular Handle | 1-1/2" Male SAE Thread | 45 | P6CH-940 |
| Avalon Spas | 4-13/16 | 11-7/8 | 2-1/8" Open | 2-1/8" Open | 32 | P-4332 |
| Baja Spas | 4-15/16 | 13-5/16 | 2-1/8" Open | 2-1/8" Open | 50 | P-4950 |
| Baker-Hydro | 4-15/16 | 11-7/8 | 2-1/8" Open | 2-1/8" Open | 32 | P-4332 |
| Baker-Hydro | 7 | 9-13/16 | Molded Knob Handle | Molded Cone Adapter | 25 | P-7604 |
| Beachcomber | 4-15/16 | 4-5/8 | 2-1/8" Open | 2-1/8" Open | 35 | P-4401 |
| Beachcomber | 4-15/16 | 6-5/8 | 2-1/8" Open | 2-1/8" Open | 50 | P-4405 |
| Beachcomber | 4-15/16 | 13-5/16 | 2-1/8" Open | 2-1/8" Open | 25 | P-4326 |
| Beachcomber | 4-15/16 | 13-5/16 | 2-1/8" Open | 2-1/8" Open | 50 | P-4950 |
| Beachport Spas | 7 | 9-13/16 | 3" Open | 3" Open | 25 | P-7625 |
| Belize Spas | 4-15/16 | 9-1/4 | 2-1/8" Open | 2-1/8" Open | 35 | P-4335 |
| Belize Spas | 4-15/16 | 13-5/16 | 2-1/8" Open | 2-1/8" Open | 50 | P-4950 |
| Belize Spas | 6 | 8-1/4 | Semi-Circular Handle | 1-1/2" Male SAE Thread | 45 | P6CH-940 |
| Blue Falls | 4-1/4 | 4 | 2-1/16" Open | 2-1/16" Open | 10 | P-4310 |
| Blue Falls | 4-15/16 | 13-5/16 | 2-1/8" Open | 2-1/8" Open | 25 | P-4326 |
| Blue Falls | 4-15/16 | 13-5/16 | 2-1/8" Open | 2-1/8" Open | 50 | P-4950 |
| Blue Pacific | 4-5/8 | 11-7/8 | Molded Cone Handle | 1-1/2" Male Pipe Thread | 30 | P4CH-30 |
| Blue Pacific | 4-15/16 | 13-5/16 | 2-1/8" Open | 2-1/8" Open | 25 | P-4625 |
| Blue Pacific | 4-15/16 | 13-5/16 | 2-1/8" Open | 2-1/8" Open | 50 | P-4950 |
| Blue Pacific | 6 | 8-1/4 | Semi-Circular Handle | 1-1/2" Male SAE Thread | 45 | P6CH-940 |
| Blue Ridge Spas | 4-5/8 | 9-3/4 | Molded Cone Handle | 1-1/2" Male Pipe Thread | 25 | P4CH-24 |
| Bullfrog Spas | 4-15/16 | 9-1/4 | 2-1/8" Open | 2-1/8" Open | 35 | P-4335 |
| Manufacturer | Diameter | Length | Top | Bottom | Sq. Ft. | Part # |
| Bullfrog Spas | 4-15/16 | 13-5/16 | 2-1/8" Open | 2-1/8" Open | 50 | P-4950 |
| Bullfrog Spas | 6 | 8-1/4 | Semi-Circular Handle | 1-1/2" Male SAE Thread | 45 | P6CH-940 |
| Bullfrog Spas | 8 | 6 | Semi-Circular Handle | 2" Male SAE Thread | 50 | P8CH-950 |
| Cal Spas | 4-15/16 | 13-5/16 | 2-1/8" Open | 2-1/8" Open | 50 | P-4950 |
| Cal Spas | 4-15/16 | 14-7/8 | 2-1/8" Open | 2-1/8" Open | 50 | P-4305 |
| Cal Spas | 4-15/16 | 23-5/8 | 2-1/8" Open | 2-1/8" Open | 95 | P-4995 |
| Cal Spas | 5-3/16 | 16-1/8 | Bar Handle | 2" Male Pipe Thread | 75 | P5CH-752 |
| Cal Spas | 5-5/16 | 14-13/16 | 2-1/8" Open | 2-1/8" Open | 65 | P-5374 |
| Cal Spas | 7 | 19-5/8 | 3" Open w/Molded Gasket | 3" Open w/Molded Gasket | 50 | P-7656 |
| Cal Spas | 8-1/2 | 23-5/16 | 4-1/16" Open w/Molded Gasket | 4-1/16" Open w/Molded Gasket | 100 | P-8610 |
| Caldera Spas | 4-15/16 | 9-1/4 | 2-1/8" Open | 2-1/8" Open | 35 | P-4335 |
| Caldera Spas | 4-15/16 | 13-5/16 | 2-1/8" Open | 2-1/8" Open | 50 | P-4950 |
| Caldera Spas | 7 | 10-3/4 | Semi-Circular Handle | 2-11/16" Open | 50 | P-7350 |
| Caldera Spas | 7 | 10-3/4 | Semi-Circular Handle | 2" Male Slip Fitting | 50 | P-7451 |
| Caldera Spas | 7 | 14-3/4 | Semi-Circular Handle | 2" Male Slip Fitting | 75 | P-7479 |
| Caldera Spas | 7 | 14-3/4 | Semi-Circular Handle | 2-11/16" Open | 75 | P-7375 |
| Caldera Spas | 8 | 16-1/2 | Semi-Circular Handle | 3-5/8" Open w/Lip Seal | 100 | P-8399 |
| Caldera Spas | 8-1/2 | 10-1/2 | 3" Open | 3" Open | 65 | P-8465 |
| Caribbean Spas | 4-15/16 | 4-5/8 | 2-1/8" Open | 2-1/8" Open | 35 | P-4401 |
| Caribbean Spas | 4-15/16 | 6-5/8 | 2-1/8" Open | 2-1/8" Open | 50 | P-4405 |
| Caribbean Spas | 6 | 8-1/4 | Semi-Circular Handle | 1-1/2" Male SAE Thread | 45 | P6CH-940 |
| Cascade Spas | 5-11/16 | 10-3/8 | Closed w/String Loop | 2-1/8" Open | 25 | P-5601 |
| Catalina | 4-15/16 | 4-5/8 | 2-1/8" Open | 2-1/8" Open | 35 | P-4401 |
| Catalina | 4-15/16 | 6-5/8 | 2-1/8" Open | 2-1/8" Open | 50 | P-4405 |
| Catalina | 6 | 8-1/4 | Semi-Circular Handle | 1-1/2" Male SAE Thread | 45 | P6CH-940 |
| Manufacturer | Diameter | Length | Top | Bottom | Sq. Ft. | Part # |
| Charisma Spas | 4-1/4 | 4 | 2-1/16" Open | 2-1/16" Open | 10 | P-4310 |
| Charisma Spas | 4-5/8 | 11-7/8 | Molded Cone Handle | 1-1/2" Male Pipe Thread | 30 | P4CH-30 |
| Charisma Spas | 4-15/16 | 13-5/16 | 2-1/8" Open | 2-1/8" Open | 50 | P-4950 |
| Charisma Spas | 6 | 8-1/4 | Semi-Circular Handle | 1-1/2" Male SAE Thread | 45 | P6CH-940 |
| Clearwater Spas | 4-15/16 | 4-5/8 | 2-1/8" Open | 2-1/8" Open | 35 | P-4401 |
| Clearwater Spas | 4-15/16 | 6-5/8 | 2-1/8" Open | 2-1/8" Open | 50 | P-4405 |
| Clearwater Spas | 4-15/16 | 9-1/4 | 2-1/8" Open | 2-1/8" Open | 35 | P-4335 |
| Clearwater Spas | 5-5/16 | 14-13/16 | 2-1/8" Open | 2-1/8" Open | 65 | P-5374 |
| Clearwater Spas | 5-11/16 | 10-3/8 | Closed w/String Loop | 2-1/8" Open | 50 | P-5300 |
| Clearwater Spas | 6 | 8-1/4 | Semi-Circular Handle | 1-1/2" Male SAE Thread | 45 | P6CH-940 |
| Coast Mountain | 4-15/16 | 9-1/4 | 2-1/8" Open | 2-1/8" Open | 35 | P-4335 |
| Coast Mountain | 4-15/16 | 13-5/16 | 2-1/8" Open | 2-1/8" Open | 25 | P-4326 |
| Coast Mountain | 4-15/16 | 13-5/16 | 2-1/8" Open | 2-1/8" Open | 50 | P-4950 |
| Coast Spas | 5-3/8 | 30-1/8 | 2-1/8" Open | 2-1/8" Open | 135 | P-5351 |
| Coast Spas | 4-15/16 | 13-5/16 | 2-1/8" Open | 2-1/8" Open | 50 | P-4950 |
| Coast Spas | 4-15/16 | 23-5/8 | 2-1/8" Open | 2-1/8" Open | 95 | P-4995 |
| Coast Spas | 5-3/8 | 21-5/16 | 2-1/8" Open | 2-1/8" Open | 100 | P-5396 |
| Coleman Spas | 4-15/16 | 13-5/16 | 2-1/8" Open | 2-1/8" Open | 25 | P-4326 |
| Coleman Spas | 4-15/16 | 13-5/16 | 2-1/8" Open | 2-1/8" Open | 50 | P-4950 |
| Coleman Spas | 7 | 8 | Semi-Circular Handle | 1-1/2" Male Pipe Thread | 32 | P7CH-32 |
| Coleman Spas | 7 | 8 | Semi-Circular Handle | 2" Male Pipe Thread | 32 | P7CH-322 |
| Coleman Spas | 7 | 9-3/4 | Semi-Circular Handle | 1-1/2" Male Pipe Thread | 40 | P7CH-40 |
| Coleman Spas | 7 | 9-3/4 | Semi-Circular Handle | 2" Male Pipe Thread | 40 | P7CH-402 |
| Coleman Spas | 7 | 14-3/4 | Semi-Circular Handle | 1-1/2" Male Pipe Thread | 50 | P7CH-50 |
| Coleman Spas | 7 | 14-3/4 | Semi-Circular Handle | 2" Male Pipe Thread | 50 | P7CH-502 |
| Manufacturer | Diameter | Length | Top | Bottom | Sq. Ft. | Part # |
| Coleman Spas | 8 | 9 | 2-1/16" Open | 2" Male Slip Fitting | 50 | P-8450 |
| Coleman Spas | 8 | 13 | 2-1/16" Open | 2" Male Slip Fitting | 75 | P-8475 |
| Columbia Spas | 4-15/16 | 9-1/4 | 2-1/8" Open | 2-1/8" Open | 35 | P-4335 |
| Columbia Spas | 4-15/16 | 13-5/16 | 2-1/8" Open | 2-1/8" Open | 50 | P-4950 |
| Continental Leisure | 4-15/16 | 13-5/16 | 2-1/8" Open | 2-1/8" Open | 25 | P-4625 |
| Continental Leisure | 8 | 11-5/8 | Semi-Circular Handle | 2" Male Pipe Thread | 60 | P8CH-60 |
| Crystal Waters Spas | 4-15/16 | 9-1/4 | 2-1/8" Open | 2-1/8" Open | 35 | P-4335 |
| Crystal Waters Spas | 4-15/16 | 13-5/16 | 2-1/8" Open | 2-1/8" Open | 50 | P-4950 |
| Crystal Waters Spas | 6 | 9-1/8 | Semi-Circular Handle | 1-1/2" Male Pipe Thread | 47 | P6CH-47 |
| Crystal Waters Spas | 8-1/2 | 18-1/4 | Castle | 2-1/2" Open w/Beveled Edge | 125 | P-8320 |
| CTA Spas | 4-5/8 | 9-3/4 | Molded Cone Handle | 1-1/2" Male Pipe Thread | 25 | P4CH-24 |
| Curtis Plastics | 5-3/16 | 11-7/8 | 1-1/16" Open | 1-5/8" Open | 22 | P-5622 |
| Dakota Spas | 4-15/16 | 12-1/4 | 2-1/8" Open | 2-1/8" Open | 45 | P-4311 |
| Dakota Spas | 4-15/16 | 13-5/16 | 2-1/8" Open | 2-1/8" Open | 25 | P-4326 |
| Dakota Spas | 4-15/16 | 20-1/8 | 2-1/8" Open | 2-1/8" Open | 75 | P-4975 |
| Dakota Spas | 6 | 8-1/4 | Semi-Circular Handle | 1-1/2" Male SAE Thread | 45 | P6CH-940 |
| DelSol Spas | 5-3/16 | 10-3/4 | Bar Handle | 2" Male Pipe Thread | 40 | P5CH-402 |
| Diamondback Spas | 4-15/16 | 4-5/8 | 2-1/8" Open | 2-1/8" Open | 35 | P-4401 |
| Diamondback Spas | 4-15/16 | 13-5/16 | 2-1/8" Open | 2-1/8" Open | 50 | P-4950 |
| Diamondback Spas | 6 | 9-3/4 | Semi-Circular Handle | 1-1/2" Male Pipe Thread | 35 | P6CH-35 |
| DiamondbackSpas | 4-15/16 | 6-5/8 | 2-1/8" Open | 2-1/8" Open | 50 | P-4405 |
| Dimension One | 4-5/8 | 11-7/8 | Molded Cone Handle | 1-1/2" Male Pipe Thread | 30 | P4CH-30 |
| Dimension One | 4-5/8 | 12 | Semi-Circular Handle | 1-1/4" Male SAE Thread | 25 | P4CH-950 |
| Dimension One | 4-5/8 | 14-3/4 | Molded Cone Handle | 1-1/2" Male Pipe Thread | 50 | P4CH-50 |
| Dimension One | 4-5/8 | 15 | Semi-Circular Handle | 1-1/4" Male SAE Thread | 40 | P4CH-940 |
| Manufacturer | Diameter | Length | Top | Bottom | Sq. Ft. | Part # |
| Dimension One | 4-5/8 | 19-5/8 | Molded Cone Handle | 1-1/2" Male Pipe Thread | 65 | P4CH-65 |
| Dimension One | 7 | 10-1/2 | Semi-Circular Handle | 2" Male Pipe Thread | 55 | P7CH-552 |
| Dimension One | 7 | 10-1/2 | Semi-Circular Handle | 1-1/2" Male SAE Thread | 55 | P7CH-975 |
| Dimension One | 7 | 14-3/4 | Semi-Circular Handle | 2" Male Pipe Thread | 75 | P7CH-752 |
| Dimension One | 7-1/8 | 10-1/2 | Closed w/Y Standoffs | 2" Open w/Twist Lock | 75 | P-7367 |
| Dimension One | 10-1/16 | 8-9/16 | 6" Open | 6" Open | 50 | P-9405 |
| Discovery Spas | 4-5/8 | 23-3/4 | 2-1/16" Open | 2-1/16" Open | 50 | P-4350 |
| Discovery Spas | 4-15/16 | 4-5/8 | 2-1/8" Open | 2-1/8" Open | 35 | P-4401 |
| Discovery Spas | 4-15/16 | 6-5/8 | 2-1/8" Open | 2-1/8" Open | 50 | P-4405 |
| Discovery Spas | 4-15/16 | 10-3/8 | Closed | 2-1/8" Open | 30 | P-4431 |
| Discovery Spas | 4-15/16 | 13-5/16 | 2-1/8" Open | 2-1/8" Open | 50 | P-4950 |
| Discovery Spas | 8 | 11-5/8 | Semi-Circular Handle | 2" Male Pipe Thread | 60 | P8CH-60 |
| Dolphin Spas | 4-5/8 | 4-5/8 | Molded Cone Handle | 1-1/2" Male Pipe Thread | 13 | P4CH-19 |
| Dolphin Spas | 4-5/8 | 11-7/8 | Molded Cone Handle | 1-1/2" Male Pipe Thread | 30 | P4CH-30 |
| Dolphin Spas | 4-15/16 | 14-7/8 | 2-1/8" Open | 2-1/8" Open | 50 | P-4305 |
| Down East | 4-15/16 | 13-5/16 | 2-1/8" Open | 2-1/8" Open | 25 | P-4625 |
| Dream Maker Spas | 4-5/8 | 9-3/4 | Molded Cone Handle | 1-1/2" Male Pipe Thread | 25 | P4CH-24 |
| Dynasty Spas | 4-5/8 | 14-3/4 | Molded Cone Handle | 1-1/2" Male Pipe Thread | 50 | P4CH-50 |
| Dynasty Spas | 4-15/16 | 4-5/8 | 2-1/8" Open | 2-1/8" Open | 35 | P-4401 |
| Dynasty Spas | 4-15/16 | 13-5/16 | 2-1/8" Open | 2-1/8" Open | 50 | P-4950 |
| Dynasty Spas | 4-15/16 | 13-1/2 | V Groove Semi-Circular Handle | 2" Female SAE Thread | 50 | P4CH-949 |
| Dynasty Spas | 5-5/16 | 10-1/8 | 2-1/8" Open | 2-1/8" Open | 45 | P-5345 |
| Dynasty Spas | 6 | 8-1/4 | Semi-Circular Handle | 1-1/2" Male SAE Thread | 45 | P6CH-940 |
| Elite Spas By Maax | 5-5/8 | 8 | Semi-Circular Handle | 1-1/2" Male Pipe Thread | 35 | P5CH-35 |
| Emerald Spas | 2-7/8 | 17-1/16 | 1-1/16" Open | 1-1/16" Open | 14.5 | P-2302 |
| Manufacturer | Diameter | Length | Top | Bottom | Sq. Ft. | Part # |
| Emerald Spas | 4-5/8 | 11-7/8 | 2-1/16" Open | 2-1/16" Open | 25 | P-4325 |
| Emerald Spas | 4-15/16 | 9-1/4 | 2-1/8" Open | 2-1/8" Open | 35 | P-4335 |
| Emerald Spas | 4-15/16 | 11-7/8 | 2-1/8" Open | 2-1/8" Open | 32 | P-4332 |
| Emerald Spas | 4-15/16 | 13-5/16 | 2-1/8" Open | 2-1/8" Open | 25 | P-4326 |
| Emerald Spas | 4-15/16 | 13-5/16 | 2-1/8" Open | 2-1/8" Open | 50 | P-4950 |
| Emerald Spas | 4-15/16 | 20-1/8 | 2-1/8" Open | 2-1/8" Open | 75 | P-4975 |
| Emerald Spas | 5 | 13-15/16 | 2-3/8" Open | 2-3/8" Open | 25 | P-5625 |
| Endless Pools | 10-1/16 | 8-9/16 | 6" Open | 6" Open | 50 | P-9405 |
| Esther Williams | 4-15/16 | 4-5/8 | 2-1/8" Open | 2-1/8" Open | 35 | P-4401 |
| Esther Williams | 4-15/16 | 13-5/16 | 2-1/8" Open | 2-1/8" Open | 25 | P-4625 |
| Florida Whirlpools | 4-5/8 | 11-7/8 | Molded Cone Handle | 1-1/2" Male Pipe Thread | 30 | P4CH-30 |
| Florida Whirlpools | 4-5/8 | 14-3/4 | Molded Cone Handle | 1-1/2" Male Pipe Thread | 50 | P4CH-50 |
| Florida Whirlpools | 5-11/16 | 10-3/8 | Closed w/String Loop | 2-1/8" Open | 50 | P-5300 |
| Fort Wayne Spas | 4-15/16 | 13-5/16 | 2-1/8" Open | 2-1/8" Open | 25 | P-4625 |
| Fountain Valley | 6-7/8 | 13-3/4 | 2" Open | 2" Open | 45 | P-6445 |
| Four Seasons | 6 | 9-3/4 | Semi-Circular Handle | 1-7/8" Open w/Slots | 25 | P-6601 |
| Four Seasons | 6 | 14-3/4 | Semi-Circular Handle | 1-7/8" Open w/Slots | 35 | P-6603 |
| Four Winds Spas | 4-15/16 | 13-5/16 | 2-1/8" Open | 2-1/8" Open | 50 | P-4950 |
| Four Winds Spas | 4-15/16 | 13-1/2 | V Groove Semi-Circular Handle | 2" Female SAE Thread | 50 | P4CH-949 |
| Four Winds Spas | 7 | 14-3/4 | Semi-Circular Handle | 2" Male Pipe Thread | 75 | P7CH-752 |
| Freedom Spas | 4-5/8 | 11-7/8 | Molded Cone Handle | 1-1/2" Male Pipe Thread | 30 | P4CH-30 |
| Freedom Spas | 4-15/16 | 4-5/8 | 2-1/8" Open | 2-1/8" Open | 35 | P-4401 |
| Freedom Spas | 4-15/16 | 6-5/8 | 2-1/8" Open | 2-1/8" Open | 50 | P-4405 |
| Freedom Spas | 4-15/16 | 13-5/16 | 2-1/8" Open | 2-1/8" Open | 50 | P-4950 |
| Freedom Spas | 4-15/16 | 13-15/16 | 2-1/8" Open | 2-1/8" Open | 37 | P-4637 |
| Manufacturer | Diameter | Length | Top | Bottom | Sq. Ft. | Part # |
| Freedom Spas | 6 | 12-3/8 | Semi-Circular Handle | 1-1/2" Male Pipe Thread | 45 | P6CH-45 |
| Freeflow Spas | 4-15/16 | 6-5/8 | 2-1/8" Open | 1-1/2" Male Pipe Thread | 25 | P4CH-22 |
| Freeflow Spas | 4-15/16 | 6-5/8 | Closed | 1-1/2" Male Pipe Thread | 25 | P4CH-23 |
| Freeflow Spas | 5-5/16 | 10 | 2-1/8" Open | 1-1/2" Male Pipe Thread | 45 | P5CH-45 |
| Garden Leisure | 4-15/16 | 13-1/2 | V Groove Semi-Circular Handle | 2" Female SAE Thread | 50 | P4CH-949 |
| Garden Leisure | 5-5/16 | 10-1/8 | 2-1/8" Open | 2-1/8" Open | 45 | P-5345 |
| Gatsby Spas | 4-5/8 | 9-3/4 | Molded Cone Handle | 1-1/2" Male Pipe Thread | 25 | P4CH-24 |
| Gatsby Spas | 4-5/8 | 9-3/4 | Molded Cone Handle | 1-9/10" Open | 25 | P-4324 |
| Gatsby Spas | 4-15/16 | 13-5/16 | 2-1/8" Open | 2-1/8" Open | 50 | P-4950 |
| Gatsby Spas | 5-11/16 | 10-3/8 | Closed w/String Loop | 2-1/8" Open | 25 | P-5601 |
| Gatsby Spas | 6 | 9-1/8 | Semi-Circular Handle | 1-1/2" Male Pipe Thread | 47 | P6CH-47 |
| Gerico Spas | 6-15/16 | 17-5/8 | 2-1/16" Open | 2-1/16" Open | 45 | P-6645 |
| Great Lakes H&R | 4-15/16 | 9-1/4 | 2-1/8" Open | 2-1/8" Open | 35 | P-4335 |
| Great Lakes H&R | 4-15/16 | 13-5/16 | 2-1/8" Open | 2-1/8" Open | 25 | P-4326 |
| Great Lakes H&R | 4-15/16 | 13-5/16 | 2-1/8" Open | 2-1/8" Open | 50 | P-4950 |
| Grecian Spas | 4-5/8 | 23-3/4 | 2-1/16" Open | 2-1/16" Open | 50 | P-4350 |
| Grecian Spas | 5-11/16 | 10-3/8 | Closed w/String Loop | 2-1/8" Open | 50 | P-5300 |
| Gulf Coast Spas | 4-15/16 | 9-1/4 | 2-1/8" Open | 2-1/8" Open | 35 | P-4335 |
| Gulf Coast Spas | 6 | 8-1/4 | Semi-Circular Handle | 1-1/2" Male SAE Thread | 45 | P6CH-940 |
| H2O Spas | 4-15/16 | 13-5/16 | 2-1/8" Open | 2-1/8" Open | 50 | P-4950 |
| H2O Spas | 6 | 8-1/4 | Semi-Circular Handle | 1-1/2" Male SAE Thread | 45 | P6CH-940 |
| H2O Spas | 6-9/16 | 17-3/16 | 2-3/8" Open | 2-3/8" Open | 100 | P-6310 |
| Haugh's | 4-15/16 | 13-5/16 | 2-1/8" Open | 2-1/8" Open | 25 | P-4625 |
| Haugh's | 4-15/16 | 13-5/16 | 2-1/8" Open | 2-1/8" Open | 50 | P-4950 |
| Hawkeye Spas | 4-15/16 | 9-1/4 | 2-1/8" Open | 2-1/8" Open | 35 | P-4335 |
| Manufacturer | Diameter | Length | Top | Bottom | Sq. Ft. | Part # |
| Hawkeye Spas | 4-15/16 | 13-5/16 | 2-1/8" Open | 2-1/8" Open | 50 | P-4950 |
| Hawkeye Spas | 6 | 8-1/4 | Semi-Circular Handle | 1-1/2" Male SAE Thread | 45 | P6CH-940 |
| Hayward | 4-5/8 | 11-3/4 | 2-1/16" Open | 2-1/16" Open | 25 | P-4325 |
| Hayward | 4-5/8 | 11-7/8 | 2-1/16" Open | 2-1/16" Open | 20 | P-4320 |
| Hayward | 8-1/2 | 23-5/16 | 4-1/16" Open w/Molded Gasket | 4-1/16" Open w/Molded Gasket | 100 | P-8610 |
| Hayward | 8-15/16 | 17-3/8 | 4" Open w/Molded Gasket | 4" Open w/Molded Gasket | 90 | P-8409 |
| Hayward | 7 | 9-13/16 | 3" Open w/Molded Gasket | 3" Open w/Molded Gasket | 25 | P-7626 |
| Hayward | 7 | 19-5/8 | 3" Open w/Molded Gasket | 3" Open w/Molded Gasket | 50 | P-7656 |
| Heartland Spas | 4-5/8 | 9-3/4 | Molded Cone Handle | 1-1/2" Male Pipe Thread | 25 | P4CH-24 |
| Heldor Spas | 4-15/16 | 13-5/16 | 2-1/8" Open | 2-1/8" Open | 25 | P-4625 |
| Heldor Spas | 4-15/16 | 13-5/16 | 2-1/8" Open | 2-1/8" Open | 50 | P-4950 |
| Hollibaugh Spas | 4-1/4 | 4 | 2-1/16" Open | 2-1/16" Open | 10 | P-4310 |
| Hollibaugh Spas | 7 | 9-13/16 | 3" Open w/Molded Gasket | 3" Open w/Molded Gasket | 25 | P-7626 |
| Hollibaugh Spas | 7 | 19-5/8 | 3" Open w/Molded Gasket | 3" Open w/Molded Gasket | 50 | P-7656 |
| Hot Springs | 4-5/8 | 16 | Molded Cone Handle | 1-1/2" Male Pipe Thread | 35 | P4CH-35 |
| Hot Springs | 4-15/16 | 13-5/16 | 2-1/8" Open | 2-1/8" Open | 25 | P-4326 |
| Hot Springs | 5-1/8 | 10-1/4 | 1-15/16" Open | 1-15/16" Open | 30 | P-5431 |
| Hot Springs | 6 | 10-1/2 | 1-15/16" Open | 1-15/16" Open | 30 | P-6430 |
| Hot Springs | 6-3/8 | 11-3/4 | 3" Open | 3" Open | 45 | P-6600 |
| Hot Springs | 8-1/2 | 10-1/2 | 3" Open | 3" Open | 65 | P-8465 |
| Hydro Spa | 4-5/8 | 9-3/4 | Molded Cone Handle | 1-1/2" Male Pipe Thread | 25 | P4CH-24 |
| Hydro Spa | 4-15/16 | 4-5/8 | 2-1/8" Open | 2-1/8" Open | 35 | P-4401 |
| Hydro Spa | 4-15/16 | 9-1/4 | 2-1/8" Open | 2-1/8" Open | 35 | P-4335 |
| Hydro Spa | 4-15/16 | 13-5/16 | 2-1/8" Open | 2-1/8" Open | 50 | P-4950 |
| Hydro Spa | 6 | 9-1/8 | Semi-Circular Handle | 1-1/2" Male Pipe Thread | 47 | P6CH-47 |
| Manufacturer | Diameter | Length | Top | Bottom | Sq. Ft. | Part # |
| Hytec Spa | 4-15/16 | 6-5/8 | 2-1/8" Open | 2-1/8" Open | 50 | P-4405 |
| Icon Spas | 2-3/4 | 6 | Closed | 1-1/16" Open | 3.7 | P-2304 |
| Icon Spas | 4-1/4 | 4 | 2-1/16" Open | 2-1/16" Open | 10 | P-4310 |
| Icon Spas | 4-1/4 | 23-3/4 | Semi-Circular Handle | 2-5/16" Open w/O-Ring | 50 | P-4351 |
| Icon Spas | 4-1/4 | 23-3/4 | Semi-Circular Handle | 2" Open | 60 | P-4360 |
| Icon Spas | 4-5/8 | 9-3/4 | Molded Cone Handle | 1-1/2" Male Pipe Thread | 25 | P4CH-24 |
| Icon Spas | 4-15/16 | 13-5/16 | 2-1/8" Open | 2-1/8" Open | 50 | P-4950 |
| Icon Spas | 5-5/16 | 14-13/16 | 2-1/8" Open | 2-1/8" Open | 65 | P-5374 |
| Imperial Spas | 4-5/8 | 9-3/4 | Molded Cone Handle | 1-1/2" Male Pipe Thread | 25 | P4CH-24 |
| Infinity Spas | 4-15/16 | 9-1/4 | 2-1/8" Open | 2-1/8" Open | 35 | P-4335 |
| Infinity Spas | 4-15/16 | 13-5/16 | 2-1/8" Open | 2-1/8" Open | 50 | P-4950 |
| Infinity Spas | 6 | 8-1/4 | Semi-Circular Handle | 1-1/2" Male SAE Thread | 45 | P6CH-940 |
| Intex Recreation | 4-1/4 | 3-3/4 | 2-1/16" Open | 2-1/16" Open | 2.5 | P-4313 |
| Intex Recreation | 4-1/4 | 8 | 1-15/16" Open | 1-15/16" Open | 5 | P-4607 |
| Intex Recreation | 5-3/4 | 10 | 1-7/8" Open | 1-7/8" Open | 15 | P-5315 |
| Intex Recreation | 5-3/4 | 12 | 1-7/8" Open | 1-7/8" Open | 30 | P-5330 |
| Islander Spas | 4-15/16 | 13-5/16 | 2-1/8" Open | 2-1/8" Open | 25 | P-4326 |
| Islander Spas | 4-15/16 | 13-5/16 | 2-1/8" Open | 2-1/8" Open | 50 | P-4950 |
| Islander Spas | 6 | 8-1/4 | Semi-Circular Handle | 1-1/2" Male SAE Thread | 45 | P6CH-940 |
| J.E.M. Spas | 4-15/16 | 13-5/16 | 2-1/8" Open | 2-1/8" Open | 25 | P-4625 |
| J.E.M. Spas | 4-15/16 | 13-5/16 | 2-1/8" Open | 2-1/8" Open | 50 | P-4950 |
| J.E.M. Spas | 4-15/16 | 23-5/8 | 2-1/8" Open | 2-1/8" Open | 95 | P-4995 |
| J.E.M. Spas | 6 | 7-1/8 | Semi-Circular Handle | 1-1/2" Male Pipe Thread | 25 | P6CH-26 |
| Jacuzzi | 5 | 13-5/16 | 2-3/8" Open | 2-3/8" Open | 15 | P-5615 |
| Jacuzzi | 5 | 13-5/16 | 2-3/8" Open | 2-3/8" Open | 25 | P-5625 |
| Manufacturer | Diameter | Length | Top | Bottom | Sq. Ft. | Part # |
| Jacuzzi | 5-11/16 | 10-3/8 | Closed w/String Loop | 2-1/8" Open | 25 | P-5601 |
| Jacuzzi | 5-3/4 | 11-7/8 | 2-1/8" Open | 2-1/8" Open | 25 | P-5624 |
| Jacuzzi Premium | 4-15/16 | 13-5/16 | 2-1/8" Open | 2-1/8" Open | 25 | P-4326 |
| Jacuzzi Premium | 4-15/16 | 13-5/16 | 2-1/8" Open | 2-1/8" Open | 50 | P-4950 |
| Jacuzzi Premium | 5-3/16 | 10-3/4 | Bar Handle | 2" Male Pipe Thread | 40 | P5CH-402 |
| Jacuzzi Premium | 6 | 17-1/2 | Semi-Circular Handle | 2" Male SAE Thread | 60 | P6CH-959 |
| Jacuzzi Premium | 6-3/4 | 15-1/2 | Semi-Circular Handle | 2" Male SAE Thread | 52 | P6CH-960 |
| Jacuzzi Premium | 6-3/4 | 15-1/2 | Open w/Slots | 2" Male SAE Thread | 60 | P6CH-961 |
| Jacuzzi Premium | 8-1/2 | 15-3/16 | 2-3/16" Open | 3-1/8" Open | 100 | P-8310 |
| Jacuzzi Whirlpool | 5 | 13-15/16 | 2-3/8" Open | 2-3/8" Open | 25 | P-5625 |
| Jacuzzi Whirlpool | 5-11/16 | 10-3/8 | Closed w/String Loop | 2-1/8" Open | 25 | P-5601 |
| Jacuzzi Whirlpool | 5-11/16 | 10-3/8 | Closed w/String Loop | 2-1/8" Open | 50 | P-5300 |
| Jason International | 4-5/8 | 11-7/8 | Molded Cone Handle | 1-1/2" Male Pipe Thread | 30 | P4CH-30 |
| Jetta Spas | 6 | 16-1/4 | Semi-Circular Handle | 1-1/2" Male Pipe Thread | 60 | P6CH-60 |
| LA Spas | 4-5/8 | 9-3/4 | Molded Cone Handle | 1-1/2" Male Pipe Thread | 25 | P4CH-24 |
| LA Spas | 5-3/16 | 11-7/8 | Closed w/String Handle | 1-15/16" Open | 22 | P-5621 |
| LA Spas | 5-3/8 | 7 | Closed | 3" Male Pipe Thread | 20 | P5CH-203 |
| LA Spas | 6 | 9-1/8 | Semi-Circular Handle | 1-1/2" Male Pipe Thread | 47 | P6CH-47 |
| Legend Spas | 4-15/16 | 4-5/8 | 2-1/8" Open | 2-1/8" Open | 35 | P-4401 |
| Legend Spas | 4-15/16 | 6-5/8 | 2-1/8" Open | 2-1/8" Open | 50 | P-4405 |
| Leisure Bay Spas | 4-1/4 | 4 | 2-1/16" Open | 2-1/16" Open | 10 | P-4310 |
| Leisure Bay Spas | 4-5/8 | 4-5/8 | Molded Cone Handle | 1-1/2" Male Pipe Thread | 13 | P4CH-19 |
| Leisure Bay Spas | 4-15/16 | 13-5/16 | 2-1/8" Open | 2-1/8" Open | 50 | P-4950 |
| Leisure Bay Spas | 4-15/16 | 23-5/8 | 2-1/8" Open | 2-1/8" Open | 75 | P-4970 |
| Leisure Bay Spas | 5-5/16 | 10-1/8 | 2-1/8" Open | 2-1/8" Open | 45 | P-5345 |
| Manufacturer | Diameter | Length | Top | Bottom | Sq. Ft. | Part # |
| Leisure Bay Spas | 5-5/16 | 14-13/16 | 2-1/8" Open | 2-1/8" Open | 65 | P-5374 |
| Leisure Bay Spas | 5-5/16 | 17-13/16 | 2-1/8" Open | 2-1/8" Open | 80 | P-5397 |
| Leisure Bay Spas | 6 | 8-1/4 | Semi-Circular Handle | 1-1/2" Male SAE Thread | 45 | P6CH-940 |
| Leisure Life | 4-5/8 | 11-7/8 | Molded Cone Handle | 1-1/2" Male Pipe Thread | 30 | P4CH-30 |
| Lifestyle Spas | 4-15/16 | 4-5/8 | 2-1/8" Open | 2-1/8" Open | 35 | P-4401 |
| Lifestyle Spas | 4-15/16 | 6-5/8 | 2-1/8" Open | 2-1/8" Open | 50 | P-4405 |
| Mantle | 5-3/16 | 11-7/8 | Closed w/String Handle | 1-15/16" Open | 22 | P-5621 |
| Marathon Spas | 4-5/8 | 11-7/8 | Molded Cone Handle | 1-1/2" Male Pipe Thread | 30 | P4CH-30 |
| Marathon Spas | 4-15/16 | 13-5/16 | 2-1/8" Open | 2-1/8" Open | 50 | P-4950 |
| Marquis Spas | 4-15/16 | 6-5/8 | 2-1/8" Open | 2-1/8" Open | 50 | P-4405 |
| Marquis Spas | 5-3/16 | 11-7/8 | 1-1/16" Open | 1-5/8" Open | 25 | P-5626 |
| Marquis Spas | 5-3/16 | 12-1/2 | Bar Handle | 2" Male Pipe Thread | 35 | P5CH-352 |
| Marquis Spas | 5-3/16 | 12-1/2 | Bar Handle | 2" Male Pipe Thread | 50 | P5CH-502 |
| Marquis Spas | 5-3/16 | 14-1/8 | Closed | 1-5/8" Open | 50 | P-5346 |
| Marquis Spas | 5-3/16 | 19-5/8 | 1-1/16" Open | 1-5/8" Open | 40 | P-5637 |
| Marquis Spas | 5-3/16 | 19-5/8 | Closed | 1-5/8" Open | 58 | P-5434 |
| Marquis Spas | 5-7/8 | 15-5/8 | Closed | 1-5/8" Open | 35 | P-5423 |
| Martec | 4-15/16 | 11-7/8 | 2-1/8" Open | 2-1/8" Open | 32 | P-4332 |
| Martec | 4-15/16 | 14-7/8 | 2-1/8" Open | 2-1/8" Open | 27.5 | P-4301 |
| Martec | 4-15/16 | 14-7/8 | 2-1/8" Open | 2-1/8" Open | 50 | P-4305 |
| Martec | 7-1/2 | 14-13/16 | 2-15/16" Open | 2-15/16" Open | 65 | P-7415 |
| Master Spas | 4-5/8 | 6-3/4 | Molded Cone Handle | 1-1/2" Male Pipe Thread | 20 | P4CH-20 |
| Master Spas | 4-5/8 | 9-3/4 | Molded Cone Handle | 1-9/10" Open | 25 | P-4324 |
| Master Spas | 4-15/16 | 13-1/2 | V Groove Semi-Circular Handle | 2" Female SAE Thread | 50 | P4CH-949 |
| Master Spas | 6 | 8 | Semi-Circular Handle | 2" Male Pipe Thread | 35 | P6CH-352 |
| Manufacturer | Diameter | Length | Top | Bottom | Sq. Ft. | Part # |
| Master Spas | 6 | 8-1/4 | Semi-Circular Handle | 1-1/2" Male SAE Thread | 45 | P6CH-940 |
| Master Spas | 6 | 12-3/8 | Semi-Circular Handle | 1-1/2" Male Pipe Thread | 45 | P6CH-45 |
| Master Spas | 7 | 7-1/4 | 4-1/8" Open | 4-1/8" Open | 30 | P-7330 |
| Master Spas | 7 | 8 | Semi-Circular Handle | 2" Male Pipe Thread | 32 | P7CH-322 |
| Master Spas | 8 | 6-3/4 | 4" Open w/Raised Ring | 4" Open w/Raised Ring | 40 | P-8341 |
| Master Spas | 8 | 9-1/4 | Semi-Circular Handle | 2" Male Pipe Thread | 60 | P8CH-66 |
| Millennium Spas | 4-15/16 | 13-5/16 | 2-1/8" Open | 2-1/8" Open | 50 | P-4950 |
| Millennium Spas | 6 | 8-1/4 | Semi-Circular Handle | 1-1/2" Male SAE Thread | 45 | P6CH-940 |
| Moonwater Spas | 4-15/16 | 13-5/16 | 2-1/8" Open | 2-1/8" Open | 25 | P-4326 |
| Moonwater Spas | 4-15/16 | 13-5/16 | 2-1/8" Open | 2-1/8" Open | 50 | P-4950 |
| Morgan Spas | 4-15/16 | 13-5/16 | 2-1/8" Open | 2-1/8" Open | 37 | P-4637 |
| Morgan Spas | 4-15/16 | 13-5/16 | 2-1/8" Open | 2-1/8" Open | 50 | P-4950 |
| Morgan Spas | 5-3/16 | 14-3/4 | 2-3/8" Open | 2-3/8" Open | 37 | P-5635 |
| Mountain Meadows | 4-5/8 | 9-3/4 | Molded Cone Handle | 1-1/2" Male Pipe Thread | 25 | P4CH-24 |
| Mountain Spring | 4-5/8 | 9-3/4 | Molded Cone Handle | 1-1/2" Male Pipe Thread | 25 | P4CH-24 |
| Mountain Stream | 4-5/8 | 9-3/4 | Molded Cone Handle | 1-1/2" Male Pipe Thread | 25 | P4CH-24 |
| Nemco | 4-5/8 | 9-3/4 | Molded Cone Handle | 1-1/2" Male Pipe Thread | 25 | P4CH-24 |
| Nemco | 4-5/8 | 11-5/8 | Molded Cone Handle | 1-3/8" Open | 20 | P-4403 |
| Nemco | 4-5/8 | 14-3/4 | Molded Cone Handle | 1-1/2" Male Pipe Thread | 50 | P4CH-50 |
| Nemco | 4-15/16 | 10-3/8 | 2-1/8" Open | 2-1/8" Open | 30 | P-4429 |
| Nordic Hot Tubs | 4-15/16 | 13-5/16 | 2-1/8" Open | 2-1/8" Open | 25 | P-4326 |
| Nordic Hot Tubs | 4-15/16 | 14-7/8 | 2-1/8" Open | 2-1/8" Open | 27.5 | P-4301 |
| PacFab | 10-1/16 | 8-9/16 | 6" Open | 6" Open | 50 | P-9405 |
| PacFab | 10-1/16 | 23-5/8 | 6" Open | 6" Open | 100 | P-9410 |
| Pacific Marquis | 5-3/16 | 11-7/8 | 1-1/16" Open | 1-5/8" Open | 25 | P-5626 |
| Manufacturer | Diameter | Length | Top | Bottom | Sq. Ft. | Part # |
| Pacific Marquis | 5-3/16 | 14-1/8 | Closed | 1-5/8" Open | 50 | P-5346 |
| Pacific Marquis | 5-3/16 | 19-5/8 | 1-1/16" Open | 1-5/8" Open | 40 | P-5637 |
| Pacific Marquis | 5-3/16 | 19-5/8 | Closed | 1-5/8" Open | 58 | P-5434 |
| Pacific Marquis | 5-7/8 | 15-5/8 | Closed | 1-5/8" Open | 35 | P-5423 |
| Pacific Spas | 6 | 9-1/8 | Semi-Circular Handle | 1-1/2" Male Pipe Thread | 47 | P6CH-47 |
| Pageant Spas | 4-5/8 | 8 | Molded Cone Handle | 1-1/2" Male Pipe Thread | 19 | P4CH-21 |
| Pageant Spas | 4-15/16 | 13-5/16 | 2-1/8" Open | 2-1/8" Open | 50 | P-4950 |
| Pageant Spas | 4-15/16 | 14-7/8 | 2-1/8" Open | 2-1/8" Open | 50 | P-4305 |
| PDC Spas | 4-1/4 | 4 | 2-1/16" Open | 2-1/16" Open | 10 | P-4310 |
| PDC Spas | 4-15/16 | 4-5/8 | 2-1/8" Open | 2-1/8" Open | 35 | P-4401 |
| PDC Spas | 4-15/16 | 13-5/16 | 2-1/8" Open | 2-1/8" Open | 25 | P-4326 |
| PDC Spas | 7 | 9-13/16 | 3" Open w/Molded Gasket | 3" Open w/Molded Gasket | 25 | P-7626 |
| PDC Spas | 7 | 19-5/8 | 3" Open w/Molded Gasket | 3" Open w/Molded Gasket | 50 | P-7656 |
| Pentair | 4-5/8 | 11-7/8 | 2-1/16" Open | 2-1/16" Open | 20 | P-4320 |
| Pentair | 7-7/8 | 22-1/8 | 3-1/16" Open | 3-1/16" Open | 100 | P-7699 |
| Pentair | 10-1/16 | 8-9/16 | 6" Open | 6" Open | 50 | P-9405 |
| Pentair | 10-1/16 | 31-1/8 | 6" Open | 6" Open | 200 | P-9419 |
| Pentair | 10-1/16 | 23-5/8 | 6" Open | 6" Open | 100 | P-9410 |
| Premier Springwater | 5-3/16 | 11-7/8 | 1-1/16" Open | 1-5/8" Open | 22 | P-5622 |
| Premier Springwater | 5-3/16 | 23-1/4 | 1-5/8" Open | 1-5/8" Open | 75 | P-5371 |
| Premium Leisure | 4-15/16 | 13-1/2 | V Groove Semi-Circular Handle | 2" Female SAE Thread | 50 | P4CH-949 |
| QCA | 4-15/16 | 13-5/16 | 2-1/8" Open | 2-1/8" Open | 25 | P-4326 |
| QCA | 4-15/16 | 13-5/16 | 2-1/8" Open | 2-1/8" Open | 50 | P-4950 |
| QCA | 4-15/16 | 23-5/8 | 2-1/8" Open | 2-1/8" Open | 95 | P-4995 |
| QCA | 5-5/16 | 17-13/16 | 2-1/8" Open | 2-1/8" Open | 80 | P-5397 |
| Manufacturer | Diameter | Length | Top | Bottom | Sq. Ft. | Part # |
| Quality Acrylic | 4-5/8 | 11-7/8 | Molded Cone Handle | 1-1/2" Male Pipe Thread | 30 | P4CH-30 |
| Rainbow | 4-15/16 | 6-5/8 | 2-1/8" Open | 2-1/8" Open | 50 | P-4405 |
| Rainbow | 4-15/16 | 13-5/16 | Closed w/Raised Ring | 2-1/8" Open | 25 | P-4321 |
| Rainbow | 4-15/16 | 13-5/16 | 2-1/8" Open | 2-1/8" Open | 50 | P-4950 |
| Rec Warehouse | 4-1/4 | 4 | 2-1/16" Open | 2-1/16" Open | 10 | P-4310 |
| Rec Warehouse | 4-5/8 | 4-5/8 | Molded Cone Handle | 1-1/2" Male Pipe Thread | 13 | P4CH-19 |
| Rec Warehouse | 4-15/16 | 9-1/4 | 2-1/8" Open | 2-1/8" Open | 35 | P-4335 |
| Rec Warehouse | 4-15/16 | 13-5/16 | 2-1/8" Open | 2-1/8" Open | 25 | P-4326 |
| Rec Warehouse | 4-15/16 | 13-5/16 | 2-1/8" Open | 2-1/8" Open | 37 | P-4637 |
| Rec Warehouse | 5-5/16 | 10-1/8 | 2-1/8" Open | 2-1/8" Open | 45 | P-5345 |
| Rec Warehouse | 5-5/16 | 14-13/16 | 2-1/8" Open | 2-1/8" Open | 65 | P-5374 |
| Rec Warehouse | 5-5/16 | 17-13/16 | 2-1/8" Open | 2-1/8" Open | 80 | P-5397 |
| Rec Warehouse | 6 | 8-1/4 | Semi-Circular Handle | 1-1/2" Male SAE Thread | 45 | P6CH-940 |
| Rec Warehouse | 7-1/2 | 14-13/16 | 2-15/16" Open | 2-15/16" Open | 65 | P-7415 |
| Rec Warehouse | 7-1/2 | 28-15/16 | 2-15/16" Open | 2-15/16" Open | 150 | P-7414 |
| Rec Warehouse | 8-1/2 | 15-3/16 | 2-3/16" Open | 3-1/8" Open | 100 | P-8310 |
| Rec Warehouse | 9-15/16 | 25-5/16 | 5-3/16" Open | 6-1/16" Open | 150 | P-9403 |
| Rising Dragon | 4-15/16 | 13-5/16 | 2-1/8" Open | 2-1/8" Open | 50 | P-4950 |
| Rising Dragon | 4-15/16 | 13-1/2 | V Groove Semi-Circular Handle | 2" Female SAE Thread | 50 | P4CH-949 |
| River Valley Spas | 4-15/16 | 13-5/16 | 2-1/8" Open | 2-1/8" Open | 25 | P-4326 |
| River Valley Spas | 4-15/16 | 13-5/16 | 2-1/8" Open | 2-1/8" Open | 50 | P-4950 |
| Rocky Mountain | 5-5/16 | 10-1/8 | 2-1/8" Open | 2-1/8" Open | 45 | P-5345 |
| Rogers Spas | 5-3/16 | 11-7/8 | 1-1/16" Open | 1-5/8" Open | 22 | P-5622 |
| Romanesque | 5-3/16 | 11-7/8 | 1-1/16" Open | 1-5/8" Open | 22 | P-5622 |
| Santa Barbara Spas | 6 | 8-1/4 | Semi-Circular Handle | 1-1/2" Male SAE Thread | 45 | P6CH-940 |
| Manufacturer | Diameter | Length | Top | Bottom | Sq. Ft. | Part # |
| Santana | 4-15/16 | 9-13/16 | 2-1/8" Open | 2-1/8" Open | 25 | P-4428 |
| Santana | 4-15/16 | 11-7/8 | 2-1/8" Open | 2-1/8" Open | 30 | P-4430 |
| Santana | 4-15/16 | 14-7/8 | Closed | 2-1/8" Open | 45 | P-4345 |
| Saratoga | 4-5/8 | 4-5/8 | Molded Cone Handle | 1-1/2" Male Pipe Thread | 13 | P4CH-19 |
| Saratoga | 4-5/8 | 6-3/4 | Molded Cone Handle | 1-1/2" Male Pipe Thread | 20 | P4CH-20 |
| Saratoga | 4-5/8 | 8 | Molded Cone Handle | 1-1/2" Male Pipe Thread | 19 | P4CH-21 |
| Saratoga | 4-5/8 | 9-3/4 | Molded Cone Handle | 1-1/2" Male Pipe Thread | 25 | P4CH-24 |
| Saratoga | 4-5/8 | 11-7/8 | Molded Cone Handle | 1-1/2" Male Pipe Thread | 30 | P4CH-30 |
| Saratoga | 4-5/8 | 12 | Semi-Circular Handle | 1-1/4" Male SAE Thread | 25 | P4CH-950 |
| Seascape Spas | 4-5/8 | 11-7/8 | Molded Cone Handle | 1-1/2" Male Pipe Thread | 30 | P4CH-30 |
| Sequoia Design | 4-15/16 | 13-5/16 | 2-1/8" Open | 2-1/8" Open | 25 | P-4625 |
| Sequoia Design | 4-15/16 | 13-5/16 | 2-1/8" Open | 2-1/8" Open | 50 | P-4950 |
| Seven Seas | 5 | 13-15/16 | 2-3/8" Open | 2-3/8" Open | 25 | P-5625 |
| Seven Seas | 5-11/16 | 10-3/8 | Closed w/String Loop | 2-1/8" Open | 25 | P-5601 |
| Seven Seas | 5-11/16 | 10-3/8 | Closed w/String Loop | 2-1/8" Open | 50 | P-5300 |
| Signature Spas | 4-15/16 | 6-5/8 | 2-1/8" Open | 2-1/8" Open | 50 | P-4405 |
| Signature Spas | 4-15/16 | 13-5/16 | 2-1/8" Open | 2-1/8" Open | 25 | P-4326 |
| Signature Spas | 4-15/16 | 13-5/16 | 2-1/8" Open | 2-1/8" Open | 50 | P-4950 |
| Softsider Spas | 4-5/8 | 6-3/4 | Molded Cone Handle | 1-9/10" Open | 25 | P-4303 |
| Softub | 4-5/8 | 6-3/4 | Molded Cone Handle | 1-1/2" Male Pipe Thread | 20 | P4CH-20 |
| Softub | 6 | 5-1/2 | Semi-Circular Handle | 1-1/2" Male Pipe Thread | 25 | P6CH-25 |
| Sonoma Spas | 4-1/4 | 4 | 2-1/16" Open | 2-1/16" Open | 10 | P-4310 |
| Sonoma Spas | 4-5/8 | 11-7/8 | 2-1/16" Open | 2-1/16" Open | 25 | P-4325 |
| Sonoma Spas | 4-15/16 | 13-5/16 | 2-1/8" Open | 2-1/8" Open | 50 | P-4950 |
| Sonoma Spas | 5 | 13-15/16 | 2-3/8" Open | 2-3/8" Open | 25 | P-5625 |
| Manufacturer | Diameter | Length | Top | Bottom | Sq. Ft. | Part # |
| Sonoma Spas | 7 | 9-13/16 | 3" Open w/Molded Gasket | 3" Open w/Molded Gasket | 25 | P-7626 |
| Southwest Spas | 4-15/16 | 13-5/16 | 2-1/8" Open | 2-1/8" Open | 50 | P-4950 |
| Spa Manufacturers | 4-5/8 | 9-3/4 | Molded Cone Handle | 1-9/10" Open | 25 | P-4324 |
| Spa Manufacturers | 4-15/16 | 13-5/16 | 2-1/8" Open | 2-1/8" Open | 25 | P-4326 |
| SpaCrest | 4-15/16 | 13-5/16 | 2-1/8" Open | 2-1/8" Open | 50 | P-4950 |
| Spa-In-A-Box | 2-3/4 | 5-1/8 | 1-1/16" Open | 1-1/16" Open | 3.5 | P-2305 |
| Splash Tub | 4-15/16 | 5-1/2 | Closed | 1-9/10" Open | 16 | P-4316 |
| Sta-Rite | 7 | 19-3/8 | 3" Open | 3" Open | 50 | P-7652 |
| Sta-Rite | 8-15/16 | 17-3/8 | 4" Open w/Molded Gasket | 4" Open w/Molded Gasket | 90 | P-8409 |
| Sta-Rite | 10-1/16 | 23-5/8 | 6" Open | 6" Open | 100 | P-9410 |
| Streamline Spas | 4-15/16 | 13-5/16 | 2-1/8" Open | 2-1/8" Open | 25 | P-4326 |
| Streamline Spas | 4-15/16 | 13-5/16 | 2-1/8" Open | 2-1/8" Open | 50 | P-4950 |
| Sunbelt Spas | 4-15/16 | 13-5/16 | 2-1/8" Open | 2-1/8" Open | 50 | P-4950 |
| Sunbelt Spas | 4-15/16 | 23-5/8 | 2-1/8" Open | 2-1/8" Open | 75 | P-4970 |
| Sunbelt Spas | 6 | 8-1/4 | Semi-Circular Handle | 1-1/2" Male SAE Thread | 45 | P6CH-940 |
| Sunbelt Spas | 6 | 8-1/4 | 1-3/4" Open | 1-1/2" Male SAE Thread | 45 | P6CH-942 |
| Sunbelt Spas | 6 | 8-1/4 | Semi-Circular Handle | 1-3/4" Male Slip Fitting | 45 | P6CH-941 |
| Suncountry Spas | 4-15/16 | 13-5/16 | 2-1/8" Open | 2-1/8" Open | 50 | P-4950 |
| Sundance Spas | 4-5/8 | 11-7/8 | Molded Cone Handle | 1-1/2" Male Pipe Thread | 30 | P4CH-30 |
| Sundance Spas | 4-5/8 | 16 | Molded Cone Handle | 1-1/2" Male Pipe Thread | 35 | P4CH-35 |
| Sundance Spas | 4-5/8 | 16-3/4 | Castle | 2-1/16" Open | 40 | P-4440 |
| Sundance Spas | 4-15/16 | 4-5/8 | 2-1/8" Open | 2-1/8" Open | 35 | P-4401 |
| Sundance Spas | 4-15/16 | 9-1/4 | 2-1/8" Open | 2-1/8" Open | 35 | P-4335 |
| Sundance Spas | 4-15/16 | 13-5/16 | 2-1/8" Open | 2-1/8" Open | 50 | P-4950 |
| Sundance Spas | 4-15/16 | 14-7/8 | 2-1/8" Open | 2-1/8" Open | 50 | P-4305 |
| Manufacturer | Diameter | Length | Top | Bottom | Sq. Ft. | Part # |
| Sundance Spas | 5-3/16 | 10-3/4 | Bar Handle | 2" Male Pipe Thread | 40 | P5CH-402 |
| Sundance Spas | 6 | 9-1/8 | Semi-Circular Handle | 1-1/2" Male Pipe Thread | 47 | P6CH-47 |
| Sundance Spas | 7 | 19 | 2-1/2" Open w/Beveled Edge | 2" Male Pipe Thread | 90 | P7CH-90 |
| Sundance Spas | 7-1/2 | 14-3/4 | Castle | 2-1/16" Open | 65 | P-7465 |
| Sundance Spas | 7-1/2 | 14-3/4 | Castle | 2-5/8" Open | 65 | P-7466 |
| Sundance Spas | 7-1/2 | 17-3/4 | Castle | 2-1/2" Open w/Beveled Edge | 75 | P-7370 |
| Sundance Spas | 8-7/16 | 14 | Closed w/2" SAE Threads | 2-1/2" Open w/Beveled Edge | 80 | P-8380 |
| Sundance Spas | 8-7/16 | 18 | Closed w/3 Step Edge | 2-1/2" Open w/Beveled Edge | 125 | P-8325 |
| Sundance Spas | 8-1/2 | 18-1/4 | Castle | 2-1/2" Open w/Beveled Edge | 125 | P-8320 |
| Sundance Spas | 8-7/16 | 19 | 1-1/2" Male Slip Fitting | 2-1/2" Open w/Beveled Edge | 125 | P-8326 |
| Sundance Spas | 8-7/16 | 19-13/16 | 2-1/2" Open | 2-3/4" Open w/Beveled Edge | 125 | P-6473-165 |
| SunRay Spas | 4-15/16 | 9-1/4 | 2-1/8" Open | 2-1/8" Open | 35 | P-4335 |
| SunRay Spas | 4-15/16 | 13-5/16 | 2-1/8" Open | 2-1/8" Open | 25 | P-4326 |
| SunRay Spas | 4-15/16 | 13-5/16 | 2-1/8" Open | 2-1/8" Open | 50 | P-4950 |
| Sunrise Spas | 4-15/16 | 6-5/8 | 2-1/8" Open | 2-1/8" Open | 50 | P-4405 |
| Sunrise Spas | 4-15/16 | 9-1/4 | 2-1/8" Open | 2-1/8" Open | 35 | P-4335 |
| Sunrise Spas | 4-15/16 | 13-5/16 | 2-1/8" Open | 2-1/8" Open | 50 | P-4950 |
| Sunrise Spas | 4-15/16 | 13-1/2 | V Groove Semi-Circular Handle | 2" Female SAE Thread | 50 | P4CH-949 |
| Sunrise Spas | 6 | 5-1/2 | Semi-Circular Handle | 1-1/2" Male Pipe Thread | 25 | P6CH-25 |
| Sunrise Spas | 6 | 8-1/4 | Semi-Circular Handle | 1-1/2" Male SAE Thread | 45 | P6CH-940 |
| Sunrise Spas | 7 | 8 | Semi-Circular Handle | 1-1/2" Male Pipe Thread | 32 | P7CH-32 |
| Superior Spas | 4-1/4 | 4 | 2-1/16" Open | 2-1/16" Open | 10 | P-4310 |
| Superior Spas | 4-15/16 | 13-5/16 | 2-1/8" Open | 2-1/8" Open | 50 | P-4950 |
| Superior Spas | 6 | 8-1/4 | Semi-Circular Handle | 1-1/2" Male SAE Thread | 45 | P6CH-940 |
| Superior Spas | 6 | 8-1/4 | 1-3/4" Open | 1-1/2" Male SAE Thread | 45 | P6CH-942 |
| Manufacturer | Diameter | Length | Top | Bottom | Sq. Ft. | Part # |
| Superior Spas | 6 | 8-1/4 | Semi-Circular Handle | 1-3/4" Male Slip Fitting | 45 | P6CH-941 |
| Teledyne | 5-3/4 | 11-7/8 | 2-1/8" Open | 2-1/8" Open | 50 | P-5302 |
| Thermo Spas | 4-1/4 | 4 | 2-1/16" Open | 2-1/16" Open | 10 | P-4310 |
| Thermo Spas | 4-15/16 | 4-5/8 | 2-1/8" Open | 2-1/8" Open | 35 | P-4401 |
| Thermo Spas | 4-15/16 | 6-5/8 | 2-1/8" Open | 2-1/8" Open | 50 | P-4405 |
| Thermo Spas | 4-15/16 | 13-5/16 | 2-1/8" Open | 2-1/8" Open | 25 | P-4326 |
| Thermo Spas | 4-15/16 | 14-7/8 | 2-1/8" Open | 2-1/8" Open | 27.5 | P-4301 |
| Thermo Spas | 6 | 7-1/8 | Semi-Circular Handle | 1-1/2" Male Pipe Thread | 25 | P6CH-26 |
| Thermo Spas | 6 | 8-1/4 | Semi-Circular Handle | 1-1/2" Male SAE Thread | 45 | P6CH-940 |
| Thermo Spas | 6 | 9-3/4 | Semi-Circular Handle | 1-1/2" Male Pipe Thread | 35 | P6CH-35 |
| Tiara Spas | 4-15/16 | 13-5/16 | 2-1/8" Open | 2-1/8" Open | 50 | P-4950 |
| Tiger River | 8-1/2 | 10-1/2 | 3" Open | 3" Open | 65 | P-8465 |
| Tuff Spa | 4-15/16 | 13-5/16 | 2-1/8" Open | 2-1/8" Open | 50 | P-4950 |
| Tuff Spa | 5-3/16 | 10-3/4 | Bar Handle | 2" Male Pipe Thread | 40 | P5CH-402 |
| Tuff Spa | 6 | 8-1/4 | Semi-Circular Handle | 1-1/2" Male SAE Thread | 45 | P6CH-940 |
| US Spas | 4-15/16 | 13-5/16 | 2-1/8" Open | 2-1/8" Open | 25 | P-4326 |
| US Spas | 4-15/16 | 13-5/16 | 2-1/8" Open | 2-1/8" Open | 50 | P-4950 |
| US Tooling & Spa | 4-1/4 | 4 | 2-1/16" Open | 2-1/16" Open | 10 | P-4310 |
| US Tooling & Spa | 4-15/16 | 6-5/8 | 2-1/8" Open | 2-1/8" Open | 50 | P-4405 |
| US Tooling & Spa | 4-15/16 | 13-5/16 | 2-1/8" Open | 2-1/8" Open | 50 | P-4950 |
| US Tooling & Spa | 8 | 18 | Molded Knob Handle | 2" Male Pipe Thread | 120 | P8CH-202 |
| Viking Spas | 4-15/16 | 11-7/8 | 2-1/8" Open | 2-1/8" Open | 32 | P-4332 |
| Viking Spas | 4-15/16 | 13-5/16 | 2-1/8" Open | 2-1/8" Open | 25 | P-4326 |
| Viking Spas | 6 | 8-1/4 | Semi-Circular Handle | 1-1/2" Male SAE Thread | 45 | P6CH-940 |
| Vita Spas | 4-5/8 | 6-3/4 | Molded Cone Handle | 1-1/2" Male Pipe Thread | 20 | P4CH-20 |
| Manufacturer | Diameter | Length | Top | Bottom | Sq. Ft. | Part # |
| Vita Spas | 4-5/8 | 6-3/4 | Molded Cone Handle | 1-9/10" Open | 25 | P-4303 |
| Vita Spas | 4-5/8 | 8 | Molded Cone Handle | 1-1/2" Male Pipe Thread | 19 | P4CH-21 |
| Vita Spas | 4-15/16 | 13-5/16 | 2-1/8" Open | 2-1/8" Open | 50 | P-4950 |
| Vita Spas | 6 | 8-1/4 | Semi-Circular Handle | 1-1/2" Male SAE Thread | 45 | P6CH-940 |
| Vita Spas | 6 | 9-3/4 | Semi-Circular Handle | 1-1/2" Male Pipe Thread | 35 | P6CH-35 |
| Vita Spas | 7 | 9-3/4 | Semi-Circular Handle | 1-1/2" Male Pipe Thread | 40 | P7CH-40 |
| Vita Spas | 7 | 9-3/4 | Semi-Circular Handle | 1-9/10" Open | 40 | P-7439 |
| Vita Spas | 7 | 14-3/4 | Semi-Circular Handle | 1-1/2" Male Pipe Thread | 50 | P7CH-50 |
| Vita Spas | 7 | 14-3/4 | Semi-Circular Handle | 1-9/10" Open | 50 | P-7449 |
| Vita Spas | 7 | 19-5/8 | 3" Open | 3" Open | 50 | P-7650 |
| Vita Spas | 8-1/2 | 7-1/4 | Semi-Circular Handle | 2" Male Pipe Thread | 50 | P8CH-502 |
| Waterway Plastics | 4-1/4 | 4 | 2-1/16" Open | 2-1/16" Open | 10 | P-4310 |
| Waterway Plastics | 4-15/16 | 4-5/8 | 2-1/8" Open | 2-1/8" Open | 35 | P-4401 |
| Waterway Plastics | 4-15/16 | 6-5/8 | 2-1/8" Open | 2-1/8" Open | 50 | P-4405 |
| Waterway Plastics | 4-15/16 | 9-1/4 | 2-1/8" Open | 2-1/8" Open | 35 | P-4335 |
| Waterway Plastics | 4-15/16 | 13-5/16 | 2-1/8" Open | 2-1/8" Open | 25 | P-4326 |
| Waterway Plastics | 4-15/16 | 13-5/16 | 2-1/8" Open | 2-1/8" Open | 25 | P-4625 |
| Waterway Plastics | 4-15/16 | 13-5/16 | 2-1/8" Open | 2-1/8" Open | 37 | P-4637 |
| Waterway Plastics | 4-15/16 | 13-5/16 | 2-1/8" Open | 2-1/8" Open | 50 | P-4950 |
| Waterway Plastics | 4-15/16 | 13-1/2 | V Groove Semi-Circular Handle | 2" Female SAE Thread | 50 | P4CH-949 |
| Waterway Plastics | 4-15/16 | 23-5/8 | 2-1/8" Open | 2-1/8" Open | 75 | P-4970 |
| Waterway Plastics | 4-15/16 | 23-5/8 | 2-1/8" Open | 2-1/8" Open | 95 | P-4995 |
| Waterway Plastics | 5-5/16 | 10-1/8 | 2-1/8" Open | 2-1/8" Open | 45 | P-5345 |
| Waterway Plastics | 5-5/16 | 14-13/16 | 2-1/8" Open | 2-1/8" Open | 65 | P-5374 |
| Waterway Plastics | 5-5/16 | 17-13/16 | 2-1/8" Open | 2-1/8" Open | 80 | P-5397 |
| Manufacturer | Diameter | Length | Top | Bottom | Sq. Ft. | Part # |
| Waterway Plastics | 5-5/16 | 21-5/16 | 2-1/8" Open | 2-1/8" Open | 100 | P-5396 |
| Waterway Plastics | 5-5/16 | 30-1/8 | 2-1/8" Open | 2-1/8" Open | 135 | P-5351 |
| Waterway Plastics | 6 | 8-1/4 | Semi-Circular Handle | 1-1/2" Male SAE Thread | 45 | P6CH-940 |
| Waterway Plastics | 6 | 8-1/4 | 1-3/4" Open | 1-1/2" Male SAE Thread | 45 | P6CH-942 |
| Waterway Plastics | 6 | 8-1/4 | Semi-Circular Handle | 1-3/4" Male Slip Fitting | 45 | P6CH-941 |
| Waterway Plastics | 6-9/16 | 17-3/16 | 2-3/8" Open | 2-3/8" Open | 100 | P-6310 |
| Waterway Plastics | 8-15/16 | 17-3/8 | 4" Open w/Molded Gasket | 4" Open w/Molded Gasket | 90 | P-8409 |
| Waterway Plastics | 9-15/16 | 25-5/16 | 5-3/16" Open | 6-1/16" Open | 150 | P-9403 |
| Watkins | 4-5/8 | 16 | Molded Cone Handle | 1-1/2" Male Pipe Thread | 35 | P4CH-35 |
| Watkins | 4-15/16 | 13-5/16 | 2-1/8" Open | 2-1/8" Open | 25 | P-4326 |
| Watkins | 5-1/8 | 10-1/4 | 1-15/16" Open | 1-15/16" Open | 30 | P-5431 |
| Watkins | 6 | 10-1/2 | 1-15/16" Open | 1-15/16" Open | 30 | P-6430 |
| Watkins | 6-3/8 | 11-3/4 | 3" Open | 3" Open | 45 | P-6600 |
| Watkins | 8-1/2 | 10-1/2 | 3" Open | 3" Open | 65 | P-8465 |
| White Springs Spas | 4-5/8 | 9-3/4 | Molded Cone Handle | 1-1/2" Male Pipe Thread | 25 | P4CH-24 |
| Wind River Spas | 4-15/16 | 9-1/4 | 2-1/8" Open | 2-1/8" Open | 35 | P-4335 |
| Wind River Spas | 4-15/16 | 13-5/16 | 2-1/8" Open | 2-1/8" Open | 50 | P-4950 |